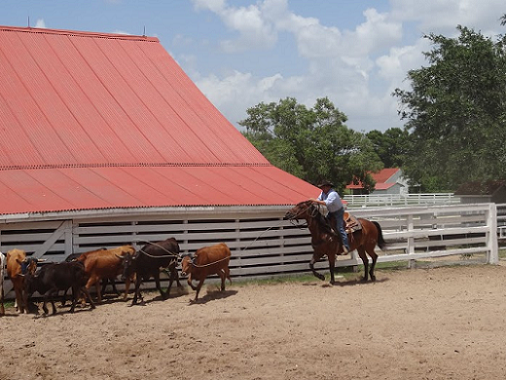 October isn't just about Halloween. Next month, head over to George Ranch Historical Park on Saturday, October 25, 2014 to enjoy Texian Market Day.  In addition to all the usual activities at this working ranch and living history site, this annual event will have battle re-enactments, special hands-on activities, live entertainment, food, craft vendors and more!
Along with all the Texian Market Day activities, visitors to George Ranch can follow the story of four generations of a Texas family from the 1820s through the 1930s.  Find out what life was like for each of the generations as you tour historic homes, guided by costumed interpreters who remain in character the entire time.
Start out with a visit to the 1830s log cabin of the Jones family and maybe even get a chance to help out with some of the chores from this time period!  Next is the 1860s prairie home of Polly Ryon, the eldest daughter of the Jones family.  Explore the home and the outbuildings as you imagine her building a ranching and farming empire.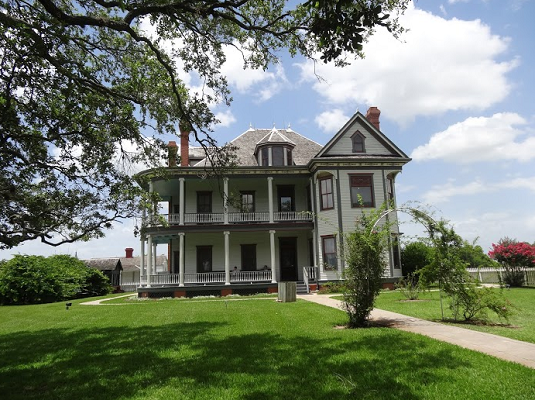 The 1890s Victorian complex of Mrs. Ryon's daughter Susan Davis includes the Davis house, the family cemetery, a working blacksmith shop, a sharecropper's farm, and a railroad car.  The Davis house, blacksmith shop and sharecropper's farm all have guides who are happy to describe life during this time period and answer any questions you may have.  Finally, conclude your tour at the 1930s George Cattle Complex of Mrs. Davis' daughter Mary Elizabeth George and her husband Albert.   The home here still contains many of the George family's furnishings.
Of course a visit to George Ranch wouldn't be complete without seeing some cattle!  Stop by the cowboy barns and working pens of the George Cattle Complex to see how ranching was done in the 1930s and 1940s.  Learn a bit about the horses and cattle then watch the cowboys in action at the cattle demonstration.  They'll work together to rope a cow and take it down to the ground.  Next, you'll probably have an opportunity to see Tex, the very impressive longhorn.  After that head over to the dipping vat to learn about how it was created as a way to ride cattle of ticks, then watch the cattle dive into the pool!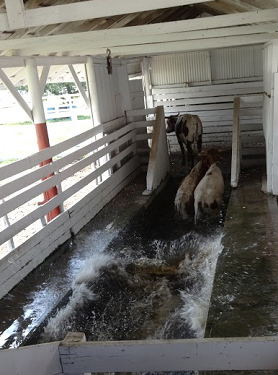 Because everything is kept as true to the time period as possible, a visit to George Ranch Historical Park is like taking a step back in time. Walking through the property and talking with the interpreters, who are very helpful and informative, gives a wonderful sense of being immersed in the history of this remarkable Texas family.

Contributed by Shanna